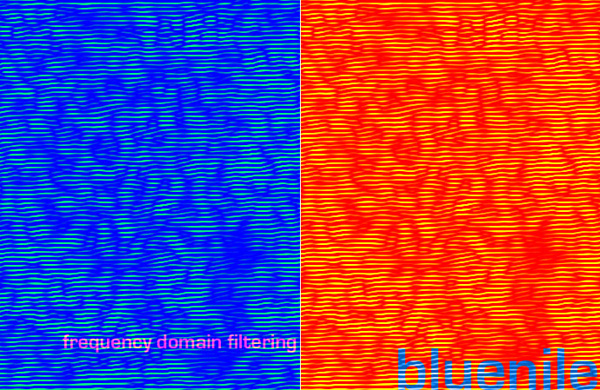 BlueNile
Image filtering in the frequency domain
Many visual representations of physical phenomena or intellectual abstraction show repetitive patterns, such as ocean waves, sand dunes, layers of atoms in crystals, flow of cars on a motorway, parallel silk threads in tissues and musical rhythms. Some convey important information which we may want to enhance (topograpy of waves on a ship's radar screen) or indeed hide (a plane's radar signature hidden in a artificially produced noise), while others are characterised by artefacts that we would like to suppress (electromagnetic interferences in digital camera images). In order to do so we have to modify these frequencies and BlueNile does exactly this: it is a tool that allows the modifications of spatial patterns in digital images.
Read about BlueNile's applications for the history of paper.
Download
BlueNile is an OpenSource software that can be freely downloaded (MIT OpenSource licence) in the following versions:
v2008.02.12 - Windows XP standalone [3Mb], Matlab code [2Mb] (for this Windows version you need to install the Matlab Component Runtime [150Mb] before installing the standalone)
v2005.09.28 - Windows 2000 standalone [26Mb]
Screenshots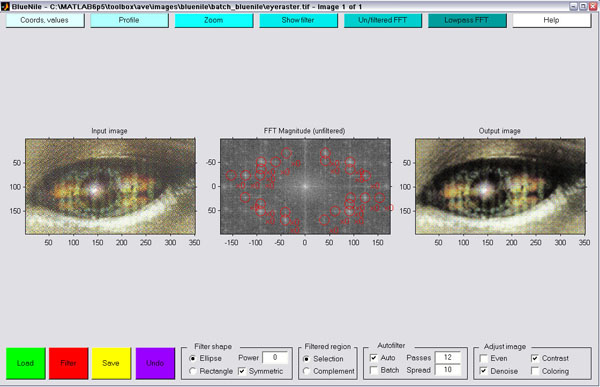 Supressing halftone in printed pictures.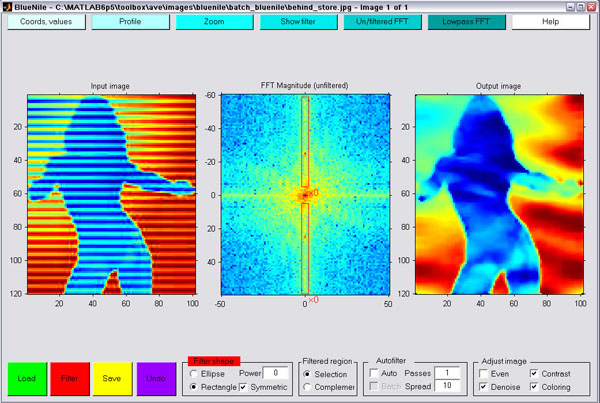 Advanced image processing.
Credits
BlueNile was written by Vlad Atanasiu in summer 2003 during his stay at the Commission for Scientific Visualization of the Austrian Academy of Science, Vienna, Austria.
Onomasticon
This software is based on the Fourier transform, a mathematical theory elaborated by the the French mathematician Jean-Baptiste-François Fourier (1768-1830) for his researches on the propagation of heat in solids. Obsessed as he was by heat, he embarked with joy in the Napoleonian expedition to Egypt (1799-1801), a warm country that he liked very much. To pay a tribute to Egypt and its mysteries, the software recieved the name Nile. But because it was developped on the banks of the Danube, in many different coffe shops of Vienna, half of its name is Blue. The BlueNile software indicated by its name that it may be used to suppress or enhance frequencies, like a opera director would with his stick rise to a tumult the waves of a mighty river or calm them down to a summerly flat, sleepy flow.